Dermasolve® Original Psoriasis & Eczema Treatment
Doctor Recommended Dermasolve is a complete line of products for both the body and scalp. This new treatment combines FDA recognized ingredients together with Ovasome Technology. Dermasolve is scientifically formulated to treat the symptoms of psoriasis, eczema, seborrheic dermatitis, scalp psoriasis and dandruff. The products are safe for use anywhere on the body including the face and scalp.All products are backed by a 60 day moneyback guarantee.   All products are proudly MADE IN USA.

Science Behind DermaSolve®
DermaSOLVE® combines the beneficial natural nourishment of Egg with Salicylic Acid making it an FDA recognized product for the treatment of Psoriasis, Seborrheic Dermatitis, Topical Dermatitis, and Dandruff.
There are many products that treat these skin conditions for exfoliating dry, dead skin cells, but they leave the skin with ugly red patches. These are the same products that contain greasy and smelly ingredients such as zinc and tar. Also, there are doctor-prescribed medications that treat these skin conditions, but contain cortisone and steriods, which can have long-term negative effects on the body.
DermaSOLVE® is dermatologist tested and in an independant visual efficacy test was found to provide positive results to over 80% of the participants.
DermaSOLVE® uses salicylic acid to gently exfoliate dry skin cell buildup. It provides the body with over 70 different vitamins, minerals, and proteins all sourced naturally with the Egg. This unique nourishment provides the body with everything it needs to heal and look normal again. No longer will you be left with those embarrasing red blotches.
Psoriasis on the Elbows and Knees
The most common place where plaque psoriasis is found is on the elbows and knees. Conditions can range from simple itching and redness with some mild flaking, to severe plaque buildup with a silver scale like look. The constant use of our bendable parts can often cause cracking and sometimes bleeding can occur. Treatment for plaque psoriasis requires two things to occur. First is the removal of the dead cell buildup. Second requires that the skin get the nourishment it needsto remove the redness. To treat your plaque psoriasis try our Dermasolve Cream. For best results use the cream together with Dermasolve Bodywash.
Scalp Psoriasis
Scalp psoriasis can occur around the hairline or throughout the entire scalp. If left untreated scaly build up can cause severe dandruff problems and even temporary hair loss. Mild cases appear as small dry patches that may cause itching and some light dandruff. If you have psoriasis on any other part of your body there is a 50% chance you will also get psoriasis on your scalp. To treat scalp psoriasis you need a good scalp psoriasis shampoo.  Try Dermasolve Shampoo. If you have a lot of scaling and dandruff a treatment that combines Dermasolve shampoo with Dermasolve Scalp Oil and our Dermasolve Cream. Try our Dermasolve Scalp Kit.
"I've tried many creams and pills over the last 10 years -Dermasolve works!"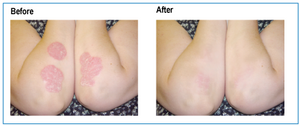 "I suffered with ugly red patches on my elbows and knees for years. Dermasolve worked for me!"
By Mwtrep " It works just as good as a prescription one but less the cost"
Verified Purchase
This stuff works wonders. I used to have to get a prescription medicine for my scalp due to psoriasis but changed doctors and did not renew my script. I saw this online and bought it to try it out. It works just as good as a prescription one but less the cost.
By ValK "Product has everything going for it if you have scalp psoriasis..." 
Verified Purchase
Been using this product for about a year. So soothing, not greasy, no residue, simple application and it works. I don't like to use the prescription stuff too often. This does it for in between and calms the itch. I can't get it in the UK, so I have it sent to visiting friends as I can't live without it.
By  Waterlilycs  
Verified Purchase
I have had psoriasis for about 4 years now. I have it on both elbows, ears, and had it on both knees. I was able to completely heal one of my knees and it remains perfectly clear. I did apply it constantly, at LEAST 4x's a day. Also, it is very soothing to dry, itchy, cracking psoriasis patches even if it doesn't heal it.
By  Patty Kuser  "5 Stars"                     
Verified Purchase
The best thing I have found that works without a strong smell.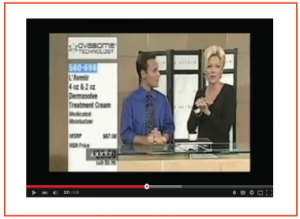 For over 15 years Dermasolve has been helping people who suffer with psoriasis.  Dermasolve has been seen on HSN and The Shopping Channel of Canada having numerous sell out shows.
Blog
Why is Colloidal Oatmeal Good For Treating Eczema? Colloidal oatmeal is a popular ingredient in many skincare products, particularly those designed for people with eczema. Eczema is a chronic skin...